Are you a busy woman who has ALL THE THINGS going on? When your toddler is having a meltdown, your teenager is slamming the door in your face, or your boss is grinding your gears – all while you're balancing your housework and trying not to send your children or yourself to therapy, you might be wondering, "how in the HECK do I raise your vibration?" Here's 3 Tips To Raise Your Vibration.
Please note, this page contains affiliate links to products I recommend. If you purchase something from this page, I may receive a small percentage of the sale at no extra cost to you. For additional information, please see my privacy and disclosures page.
Check out this quote on Pinterest that says, "The most important decision you will ever make is to be a good mood." And now that you know about What the term, 'raise your vibration' actually means, you know why it is SO important.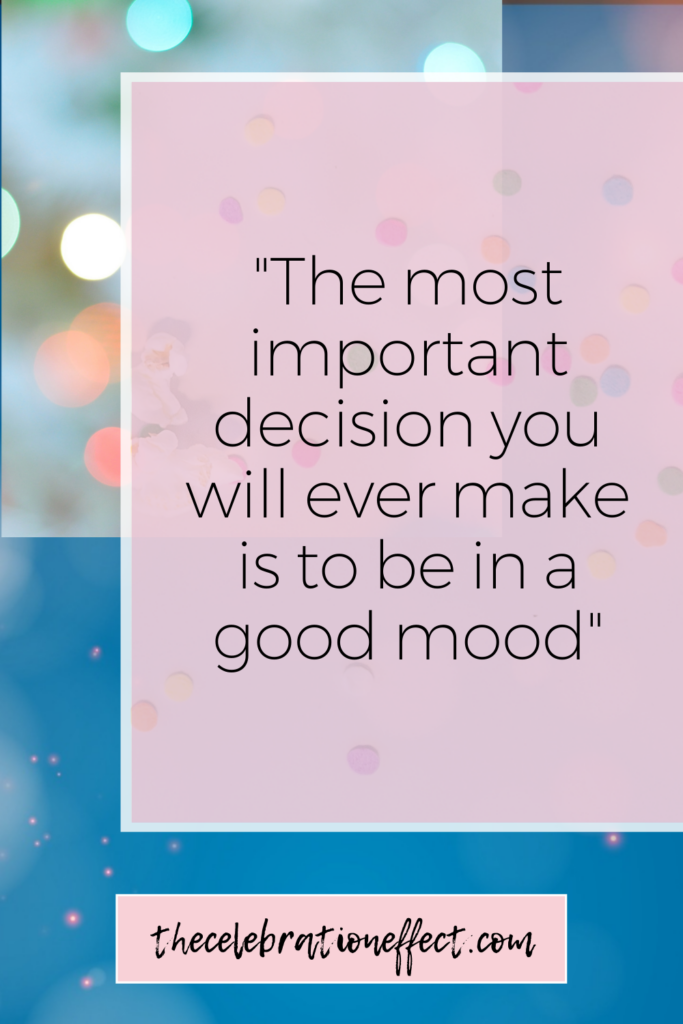 While I am so invested in personal growth and self improvement, I don't feel like there are a lot of people leading this "positive thinking" industry that really get where I'm coming from. Can you relate? Maybe it's the fact that the leaders in this industry are mostly male, they don't have kids running around, and they don't have stressful 9 to 5's. Of course you're living a high vibrational life! Right?
And while the ultimate goal is to be in a positive state ALL the time, otherwise known as 'enlightenment'. If you aren't quite to Buddha's level yet, these 3 Tips To Raise Your Vibration are a great jumping off point to celebrate your life.
Listen to the Podcast about this below, or subscribe to The Celebration Effect Podcast on iTunes!
1 of 3 Tips To Raise Your Vibration: Intention
Setting an intention is powerful. Studies have shown that setting an intention can help you make much better decisions in life. For example, when trying to live a more healthy lifestyle, instead of committing to generally eating healthier, set an intent that any time someone brings treats into the office unexpectedly, you won't take the bate. Studies show that if you had made this decision prior to it happening, you are more likely to stick with your intention.
The same goes for positive thinking. Instead of just generally planning to think more positively, set the intention to think differently when you are triggered by a specific situation. For example, when your child throws a tantrum, when you feel fat, etc). If you set the intention to stay positive during one of these (or another) situations, you are more likely to stick with it.
Recognize That Negative Thinking Is Normal
The next one goes hand in hand with the first one, to give yourself grace and realize that you are going to have negative thoughts.
I hear this complaint all the time. Once people become aware that they should be thinking more positively, they then will get a negative thought and beat themselves up. They get down on themselves for having a negative thought, and then it's a downward spiral. But we can't do that to ourselves.
Even the most enlightened people on the earth have negative thoughts, because we're human. We have an ego. And it's doing its job to protect us. (or at least that's what it thinks its doing.) Negative thinking is supposed to help us so that we don't get into a troublesome situation. Therefore, our brain is going to do it's best to keep popping giving you those negative thoughts in order to, "save your life". Knowing that, you have to just let the thought pass. And realize you are not your thoughts. Just let the thought pass. Recognize it, and move on.
Negative thinking is going to happen, and it's normal, so don't worry. You are doing a great job!
Tip 3: Gratitude
Surprise! Gratitude is number 3. Are you shocked? Someone once called me a "pusher" of gratitude, a title I will gladly take. And that's because I'm always pushing gratitude on people.
This is because gratitude is one of the best frequencies that you can vibrate at. It is the frequency of receiving. That means that anytime you are in a state of gratitude, you are sending the universe or god a sign that you are ready to receive all your deepest and most wanted desires.
Therefore, if you are in need a quick vibration shift, just list off a few things that you're grateful for. I swear it is a game changer. Give it a shot! You'll start to see how powerful gratitude really is and how it can change your life.
And don't forget! If you need help with gratitude, I got you. Download this free daily gratitude worksheet and start making gratitude a habit and making huge shifts in your life.
I truly hope that this helps you feel a little more in control of how to raise your vibration!
Let's Connect!
Lastly, thank you so much for taking the time to read about these 3 Tips to Raise Your Vibration! I hope this gives you some ideas about how to easily raise your vibration in time of stress and overwhelm! I love to help you celebrate life through party decorations and personal development! But above all, I'd love to connect with you. Reach out to me on Instagram and let's chat. Get started celebrating your life! Grab your FREE gratitude journal printable or by subscribing to my podcast, The Celebration Effect Podcast! I can't wait to connect with you more.
xoxo, Lindsay